Un certain bleu va pénétrer votre âme.
Parallel to the banks of the River Loire, is a route for pedestrians and cyclists. In Chouzé-sur-Loire, a city located in Indre-et-Loire in central France , there is a proposal for the construction of a shelter for touring cyclists . It will be integrated within the perimeter of the city and in this way, will connect the river and the city together.
The transition between these two constructed densities is intended to be clear and objective , enabling forms of appropriation of the shelter and this space on the route.
On approach to the shelter, there is an inviting bench to rest. Blue in colour, it marks out what could be an informative post, workshop for bicycles or a temporary resting point.
The dimensions 4 × 2.3 × 2.3 define the total volume. Positioned on a concrete base and supported on a central element, is a structure constructed from rectified pinewood . The space between the structure is filled with cork agglomerate and for the exterior, Prussian blue painted plywood panels are used.
A gap in the form of a drop suggests a reflective space. It is intended to reveal a small portion if the river from a different perspective.
The interior, painted in white, captures the warmth of the wood and the cork, and is designed as a space for peace, rest, silence and contemplation.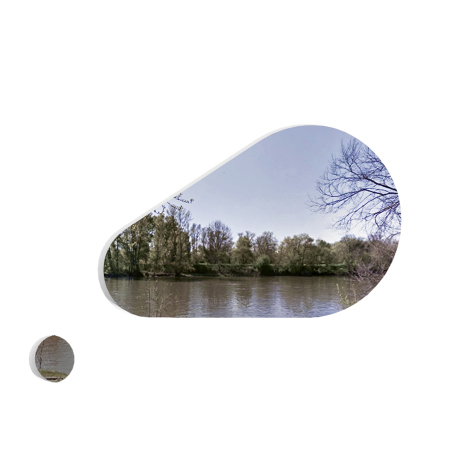 ---
Selected work for exhibition in the international competition Loire & Loges 2014.
Cátia Braga, João de Deus Ferreira and Pedro Martins.